Find out how to easily keep up with new travel trends by using the all-in-one tour operator software Victoury.
Have you ever had a customer cancel their trip because of last-minute changes?
Or perhaps a whole deal falling through due to an unavailable arrangement?
As a tour operator or travel agency, this probably happened to you. Then keep reading to find out how to avoid these situations and find other arrangements instead.
The Need For Adaptability In Travel
Work in the travel industry is constantly changing. In the last two years, travel trends have shifted drastically due to the COVID-19 Pandemic. Government restrictions were subject to change from day to day, and regional regulations added another layer of complexity to the matter. Trips were uncertain to be realized and often had to be altered or postponed, if not even canceled altogether. Two years of living with the pandemic brought unprecedented changes to the way people travel.
These developments prove that the adaptability of travel providers is desirable more than ever. If a trip is canceled, an alternative should be prepared with suitable arrangements. However, replanning a whole trip or adapting it for only a few travelers at a time can prove to be time-consuming. And if your travel company handles dozens or hundreds of customers, modifying trips from scratch is a complex and lengthy task, even with a tour operator software.
So what can you do to offer adaptable travel arrangements in an efficient way?
The following article explores five tips to make trip adjustments easier using the tour operator software Victoury.
1. Custom Trips With The Trip Designer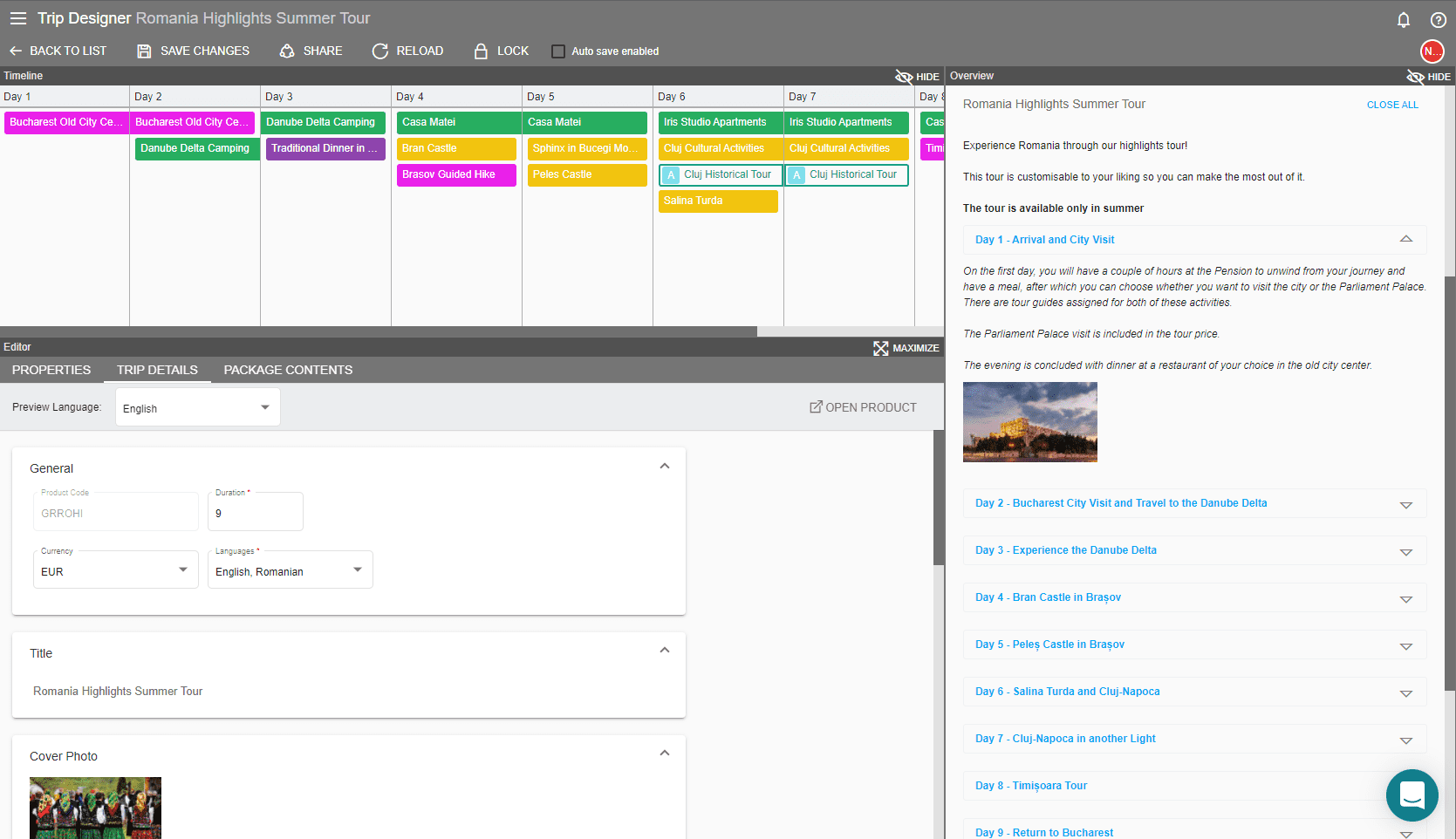 One of the features of Victoury is the Trip Designer tool. The Trip Designer allows you to completely customize a trip and then share the details with your customers.
Any further adjustments to the trip are visible in real-time on the shared website as soon as the changes are saved in the software. In addition to regular trip details, embark and disembark locations can be pinpointed on an interactive map, videos and pictures can be added to each product included in the trip, and descriptions can be written in multiple languages and switched in one click. Therefore, a trip is more accessible to a wider range of customers.
When adding a product, its description can be imported from the product details. This also applies to switching products and adding alternative products. If one of the hotels included in the trip is not available anymore, another can be added with its already-existing description imported into the trip. You only need to fill in a product's details once for each language chosen.
The base trip is used to make an itinerary deal where you can freely make adjustments for each traveler. In this way, trips become more personal and unique without altering the original one.
To find out more about making a trip, check out the playlist on How To Make A Trip In Victoury.
2. Making A Deal Out Of An Itinerary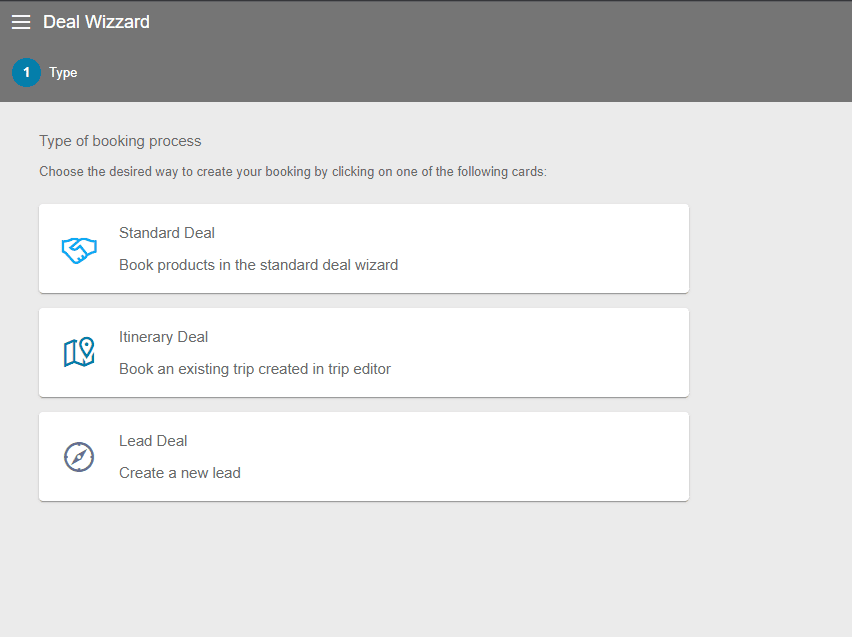 There are three types of deals in Victoury: Standard, Itinerary, and Lead.
The Itinerary Deal uses a trip created with the Trip Designer to establish a deal. A new trip is created as a copy of the original one but available only to that specific deal. Any changes made to the deal trip remain on the deal level, so the original products won't be affected. If there are last-minute changes to any arrangements booked, these can be easily modified just for the current customers.
A customer interested in an offer might have special requirements or want to add extra arrangements to their itinerary. Editing their deal takes only a few minutes in the case of an itinerary deal. Adding arrangements is done through a simple search, and special requirements can be addressed by modifying the products on the deal level. Now your customers can enjoy the perfect trip according to their wishes, and you can enjoy the time saved creating a special trip for them.
If you're wondering about supplier invoices and quotes, each product can have its supplier linked to it. Communication with the supplier and the customer is available directly in Victoury. You can send emails, generate invoices for every supplier and customer, and be up to date with payments in the Accounting Tab. In addition, you can offer vouchers, and send travel plans and booking confirmations to customers either by email or by a printable PDF.
3. Saving Customers And Their Preferences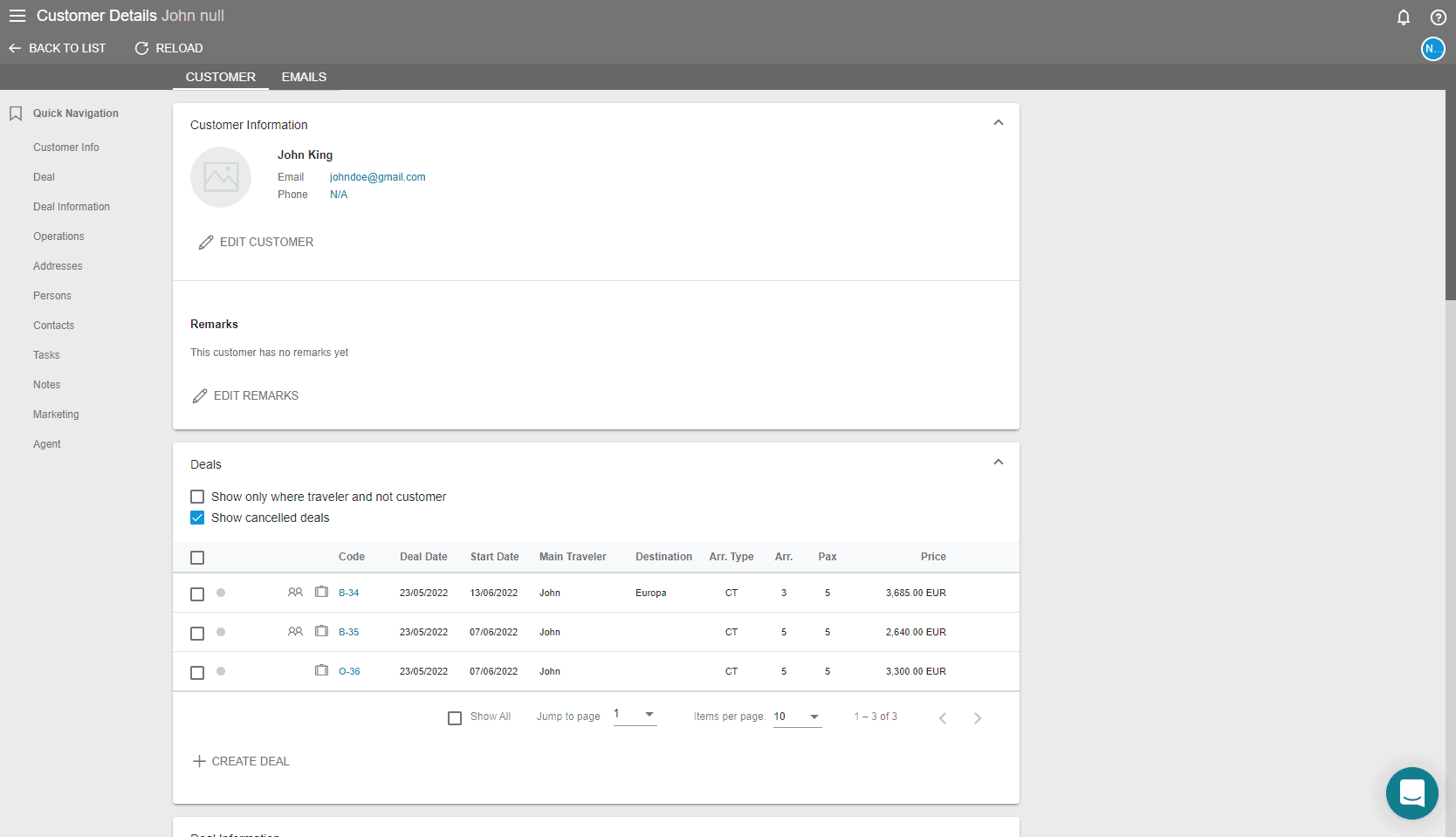 Customers can be saved along with their personal details such as addresses, personal information, documents, and preferences.
Persons accompanying that are related to the customer can be linked to them for future reference. These can be relatives or other travelers from the same trip. Relatives are displayed and can be selected when the customer related to them is loaded into a deal. This lessens the time needed to select travelers and filling in their details for further deals.
The process is easy for new customers too. A new customer can be created directly in the deal, and their personal details can be edited in the same section. The trip they participated in is saved under their personal profile. And if a new customer is created through a lead, they can be matched to an existing one if they had previous bookings.
A deal history is kept under the customer's profile. You can create more offers and target your marketing campaigns using this information.
4. Duplicate Deals For A Repeating Itinerary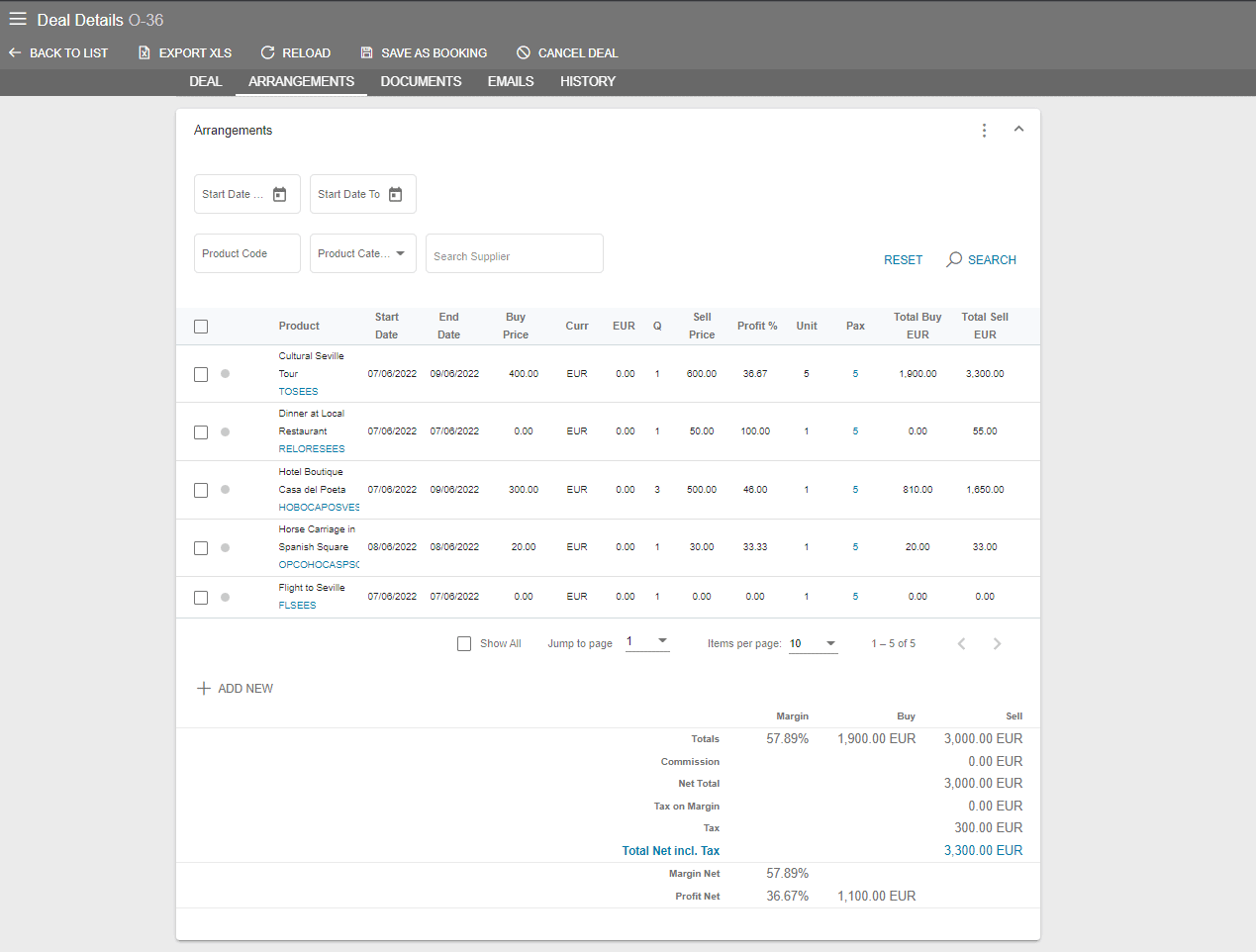 A duplicate deal is used for bookings that are similar to the original deal. The customers can be changed any time.
Deals can be duplicated and all existing arrangements, itineraries and destinations are copied in the process. This type of deal is useful when the deal is repeated either for the same travelers or for different ones. The invoices and accounting operations are not carried over as they relate to another deal. However, in case the deal had a trip, the duplicate will also have one. This is a new deal-specific trip.
An agent can duplicate a deal when it is repeated or when there are specific arrangements for a customer. The other travelers included in the deal can be duplicated too, otherwise just the main customer is kept. The agent can change the main customer if the trip is booked for someone else.
5. Additional Deals For Specific Customers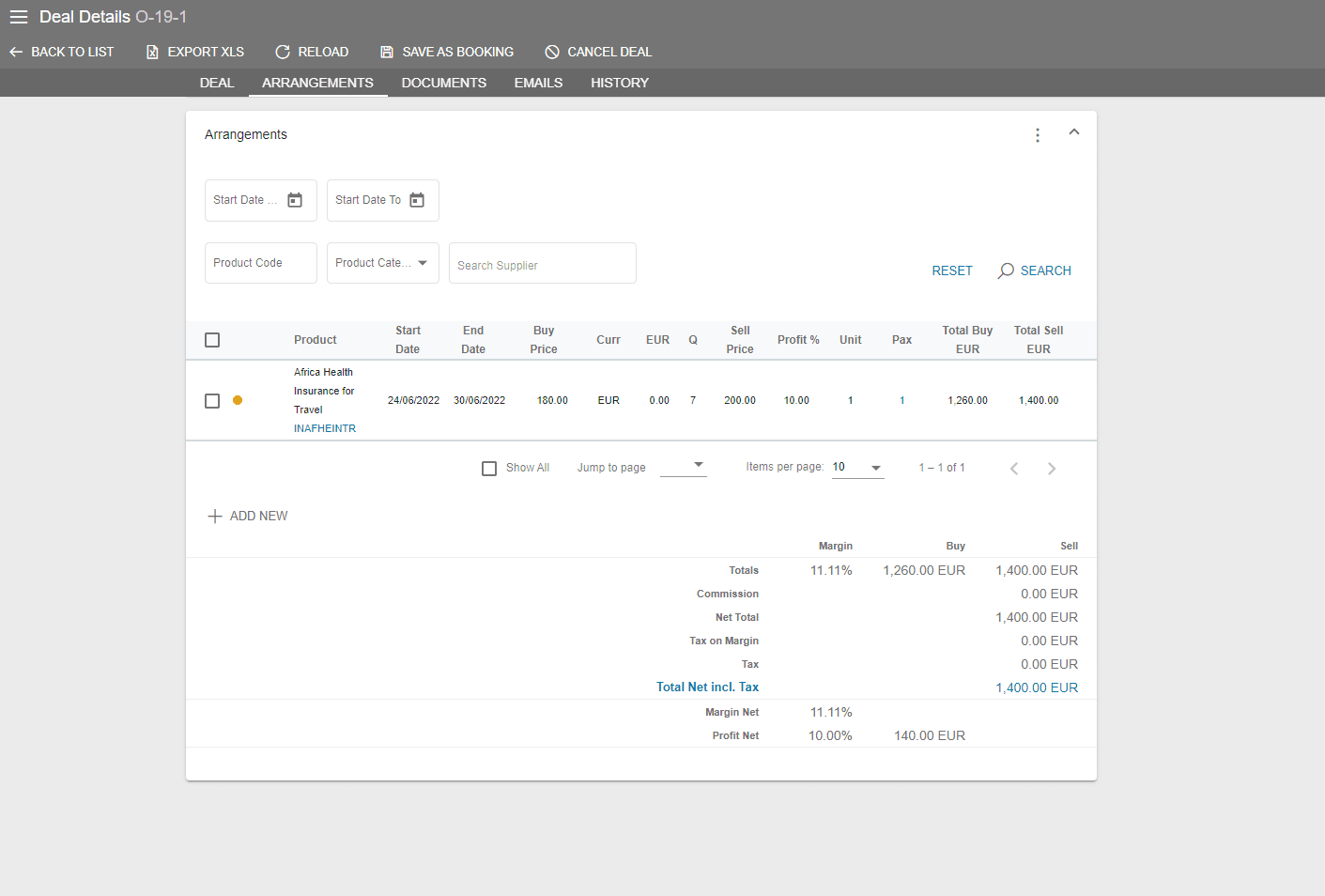 An additional deal is used in case only a part of the travelers request additional arrangements.
The customer, billing address, author of the reservation, and brand are maintained in the additional deal, and arrangements are not copied. With the arrangements tab empty, the agent can fill in the required arrangements. If the original deal had a trip linked to it, the trip will not be added to the additional deal. Any extra travelers can be duplicated as well.
With the health and safety concerns nowadays, the additional deal could prove useful in a group trip in case some travelers request a different accommodation, health insurance, activities or similar products without changing the whole itinerary.
This type of deal is used also after the trip itself. If your customer is asking for a price deduction for various reasons, an additional deal set to a negative price value can be used.
Outlook For Travel And Travel Software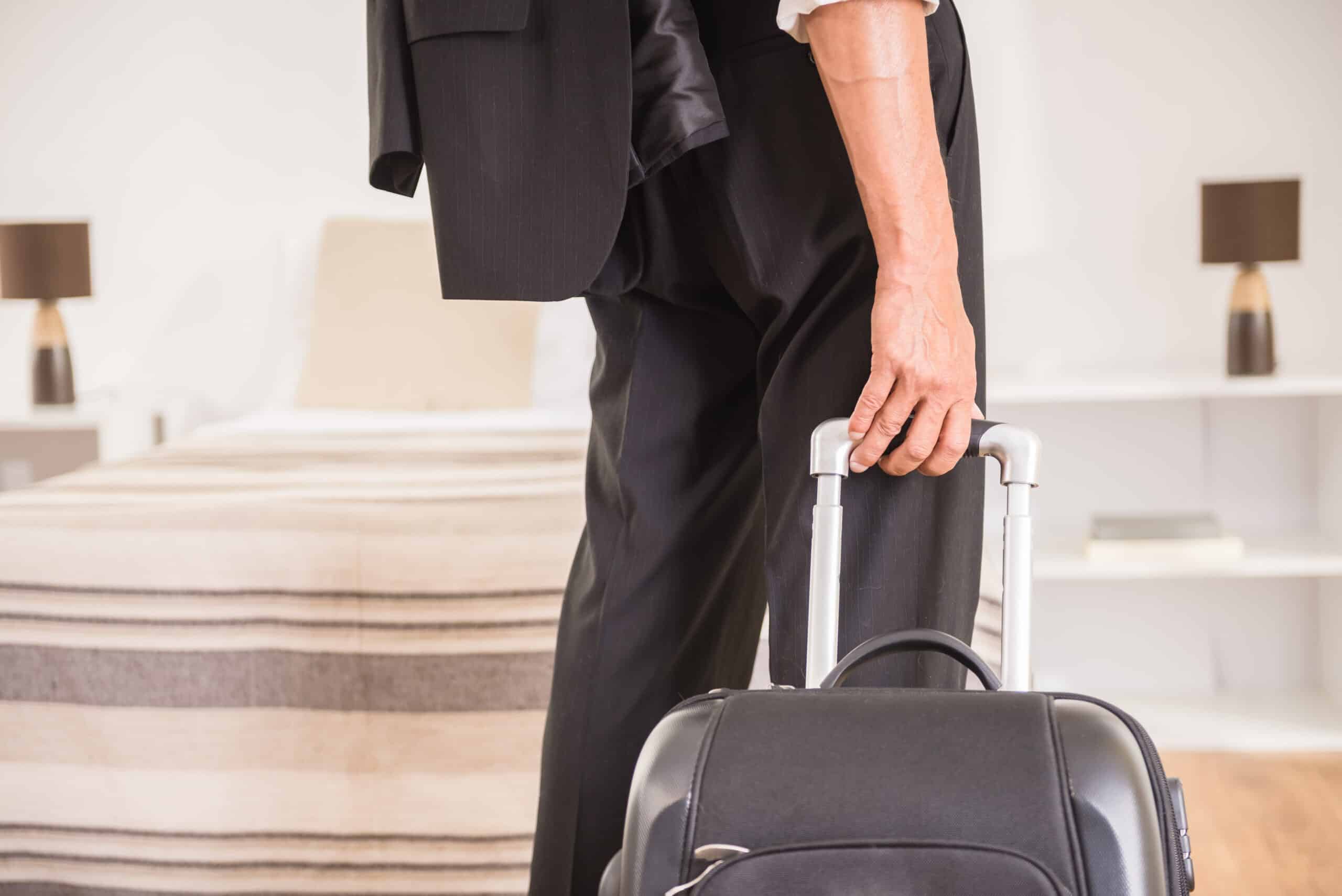 The future of travel is hardly predictable, and that only reinforces the need to have adaptable travel services. As COVID-19 regulations lessened around the world, travel is once again on an upward trend. However, effects of the pandemic will be felt in the next few years. New regulations and health concerns can come up at any time, so it is preferable to be on top of changes in travel trends.
While there are various travel tools to craft itineraries, Victoury is unique in its customization power. With Victoury, travel professionals can be more flexible and find solutions quickly if arrangements aren't available anymore. The Victoury team is comprised of experienced software developers and travel experts. Every feature is carefully thought out to aid travel professionals in their work. So next time you need to modify one of your customer's trips, make sure you're using Victoury for the most comfortable experience.
Take a look at our tour operator software by booking a demo meeting with us on our website.
Or check out our YouTube channel to see the software in action.
What is Victoury?
Victoury is a highly-customizable tour operator software which manages all aspects of your travel business.
Victoury is adaptable to any travel business. The software is browser-based, so no downloads are required and it can be accessed anywhere, even from home. Backed by the Gloobus Bus Service, you can connect to any kind of supplier or accounting system. And if you don't need all of the features, the software interface can be edited to only include what you require.
Victoury was started in 2018 after years of collaborating with travel professionals. Our team noticed the lack of a customizable travel tool that also manages all aspects of a travel business. Victoury is constantly optimized by our development team to reflect your needs as a travel professional.
Read more about Victoury on our website.