The Client Space is a way for your customers to always have an overview of their trip and travel documents. Discover how you can manage your tours and trips on just one platform.
In addition to existing travel management and booking features, Victoury now has a platform for your travelers where they can see their trip plan in real-time, access or upload necessary documents, add emergency contacts, and upload photos from their trip. Each traveler can have a secure account where they access their trip details and can also edit their profile information.
As a travel professional, you probably spend a lot of time planning a tour or a trip all so your travelers have the experience they imagined. What if you had shareable trip plans in one click? And what about a platform to share that with your travelers and update the information at any time? Read on and find out how you can use Victoury to streamline your operations.
Why Did We Create The Client Space?
An important part of a tour is having a trip plan available at all times so travelers know what the next activities and spots are. The plan can be shared online or offline as a document, on the web, or in print. However, it is also vital to make changes on the spot in case of any issues or delays with the planned activities.
The tour operator's flexibility and adaptability can be factors that define your travelers' satisfaction with their trip. If plans fall through, the travelers might end up disappointed with the whole experience. That is why in addition to communicating trip plan changes clearly, it is also important to be able to inform travelers about these changes in a timely manner.
Travel Documents On The Go
As the tour operator, you can decide what documents you publish on your customer's account. This could be a travel plan, a voucher, an entrance ticket, and so on. Similarly, your customer can also upload travel documents that you require like passports, IDs, insurance proofs, and other types of files. This makes it easy both for you as a tour operator to have important documents on hand, and for your customers to easily present documents when needed.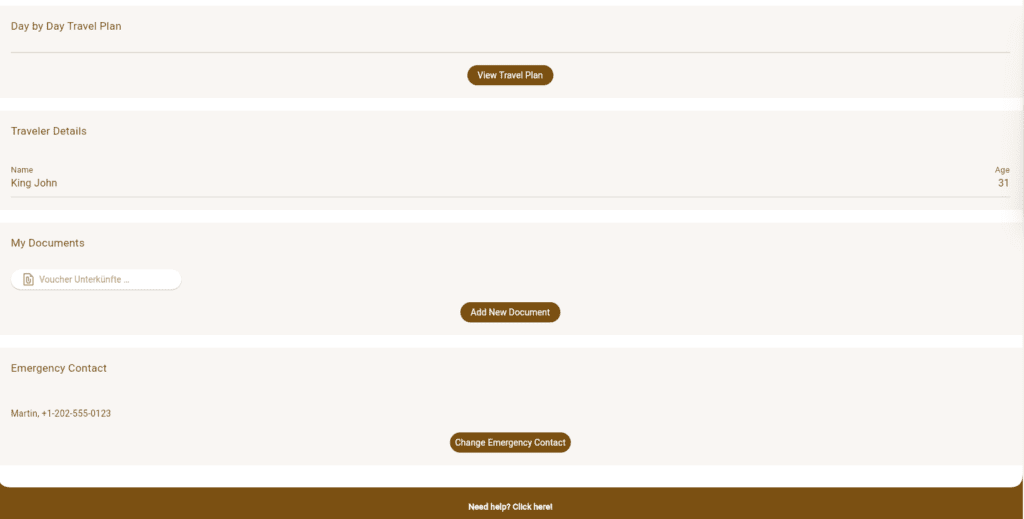 Publish Deals For Your Customers
The Client Space is a platform where you can share deals with the respective customers that booked the arrangements included. The first time you publish a deal, your customer will receive an email to activate their Client Space account, and after they log in they are able to see the deal you shared with them. After that, any other deal you publish for that customer will appear in their account as well.
If you have updates to an already published deal, you can simply publish it again and it will get updated with the latest edits.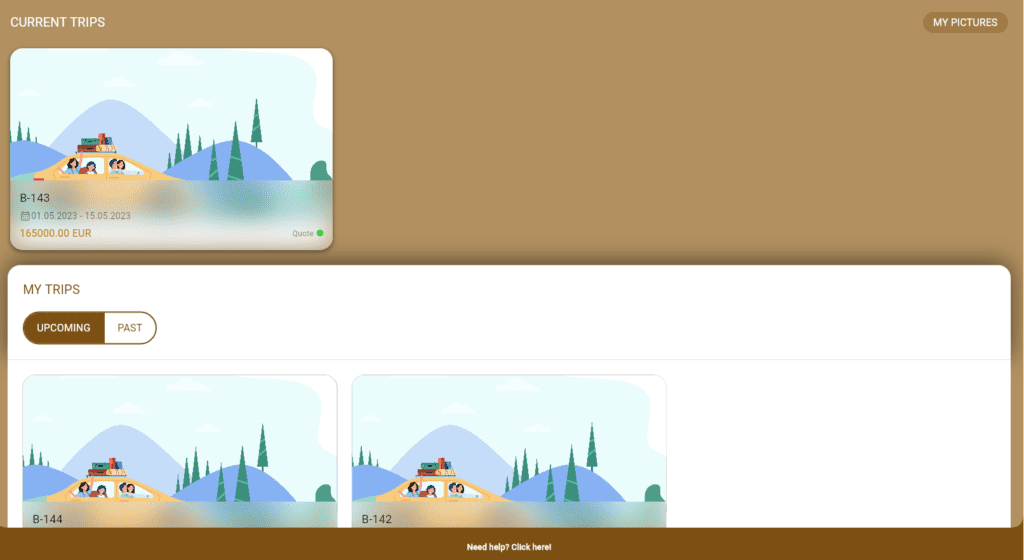 Web And Mobile Access
The Client Space can be accessed from the web or on mobile through the Client Space app, making it easy for your customers to always have their trip details on hand. If you use Victoury, you can also access it on the go if you need to make any changes to trips or deals.
Customer Profile
Each customer has a profile that they can edit freely. The information that is available in their profile is linked to the customer profile in Victoury. The available information for the customer is:
Their personal details: name, nationality, date of birth, and preferred language(s),
Their contact details: email address, phone number, address, and emergency contact(s),
Their passport details,
Their profile picture.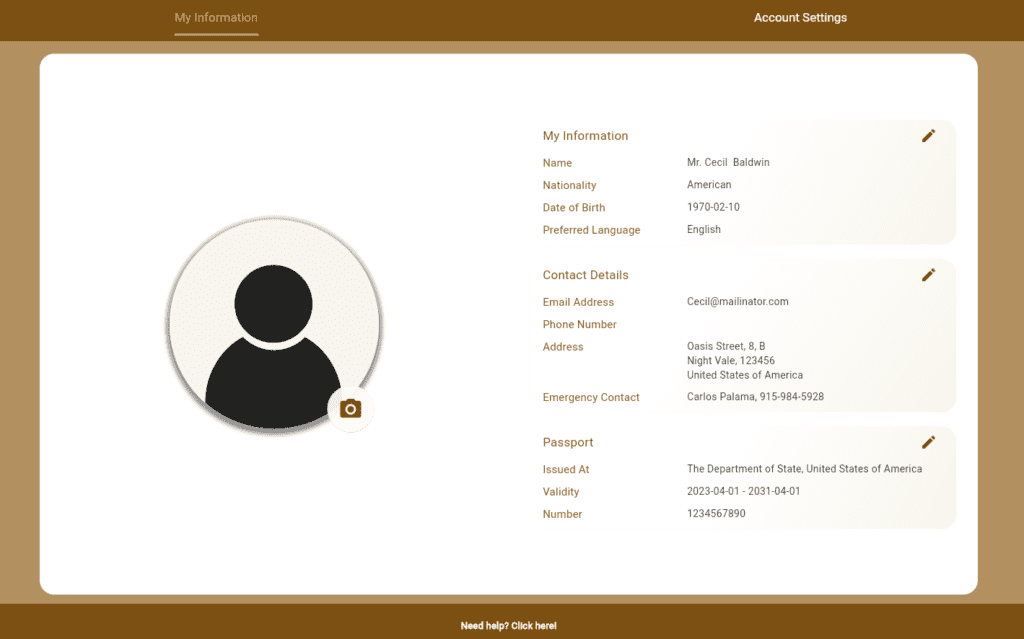 If your customer wishes to change their name, you will receive a notification and have to manually approve this change as it can affect deals and trips.
Trip Plan And More Always On Hand
One of the biggest advantages of the Client Space is that you can directly send and receive documents and trip details to your customer, which you can supplement with emails if needed. In case of any updates or changes to the trips, you can quickly publish the updated version of the trips to your customer's account. Moreover, your customer can see what trips they had in the past and their travel pictures, and they can directly edit their personal information.
Emergency Contacts
An important feature is that your customers can fill in the information on their profile by themselves. Alongside personal information, your customers can also input emergency contacts.
My Travel Pictures And Future Trips
After the trip is over, your customers can upload travel pictures directly to the Client Space. The pictures can either be linked to a deal or just uploaded to the account. You can also set up a travel request survey which the customer fills in with details so they can receive a new travel offer. Submitting the form created a new lead deal in your Victoury account, which you can then manage.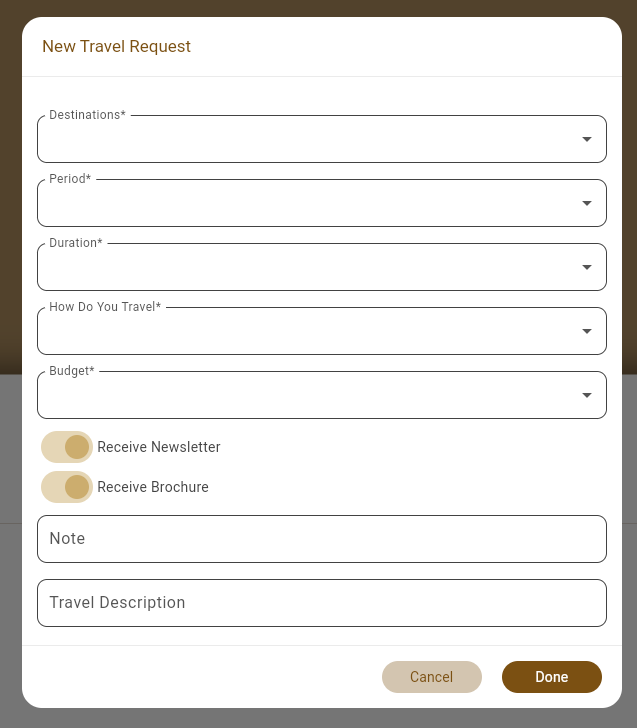 Overview
The Client Space update is a big step for Victoury in connecting tour operators and travelers in real time. The platform is a gateway for both operators and travelers to have an overview of their trips, share travel documents and details, and have a history of past and upcoming trips. Following a trip, customers can request new offers directly from their Client Space account, after which the operator can create a personalized offer for them.
If you'd like to learn more about how Victoury helps you manage your bookings, fill in the form on our website and a representative will contact you to schedule a personalized demo.
What Is Victoury?
Victoury is a highly-customizable tour operator software that manages all aspects of your travel business.
Victoury is adaptable to any travel business. The software is browser-based, so no downloads are required and it can be accessed anywhere, even from home. Backed by the Gloobus Bus Service, you can connect to any kind of supplier or accounting system. And if you don't need all of the features, the software interface can be edited to only include what you require.
Victoury was started in 2018 after years of collaborating with travel professionals. Our team noticed the lack of a customizable travel tool that also manages all aspects of a travel business. Victoury is constantly optimized by our development team to reflect your needs as a travel professional.
Read more about Victoury here.