All you need to know about the pricing system in our tour operator booking software
A tour operator will create a tour with multiple items: accommodations, activities, and events, also including various types of fees. Some tours like group tours or multi-day tours might even include an insurance fee or local entrance fees when needed. As the travel industry is in constant development, prices also become more complex over time. Customers might ask for personalised offers or want to change arrangements, thus requiring custom tour prices. If you are a tour operator or a travel professional who handles tours, you will discover a tool that helps you save time when you have to present a range of tour offers.
Victoury is a cloud-based travel booking software used to manage your travel business' customers, inventory, orders, emails, and tour creation. Once products are set up in Victoury, they can be displayed on your website through our customly built WordPress Plug-in, or through an API connector. This article will give you an overview of the product and tour pricing options available in Victoury.
Creating a Price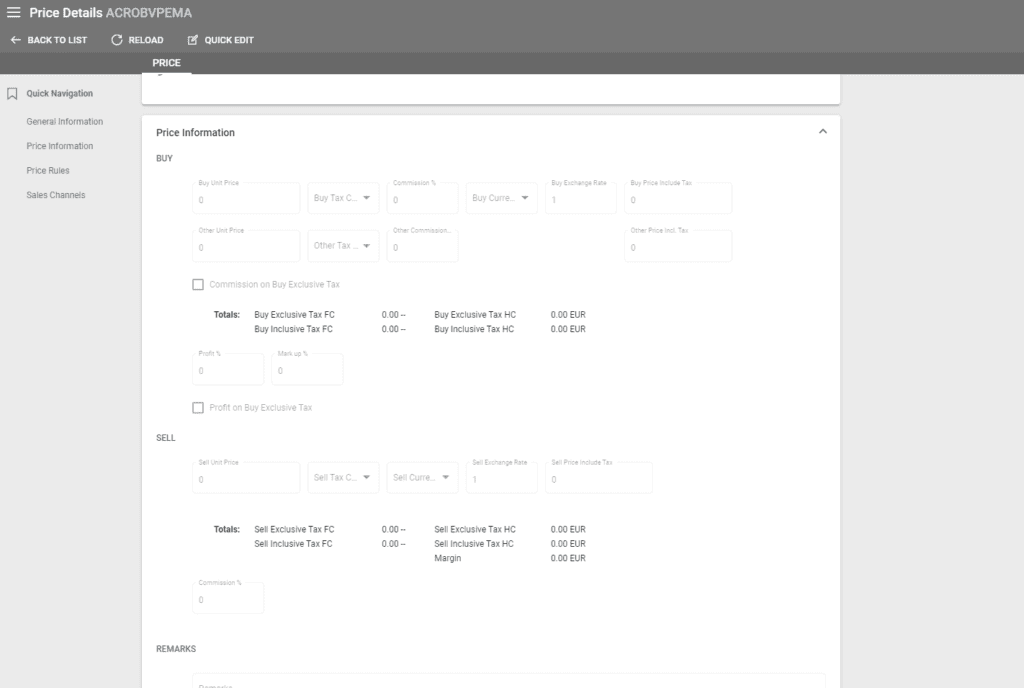 Every new product you create also has a price added to it. The price information can be edited across three sections:
General Price Information such as the time period it is available for, the catalogue price, the maximum and minimum number of persons, if it is a one time charge or per night, etc.
The Price Information which is split into the Buy and Sell prices, with each including different currencies, calculations for taxes, profits, margins, commissions etc. Currencies can have time periods of validity for their exchange rates.
Price Rules in case of discounts, offers, and special reductions.
Not all of these fields need to be filled in for a price to be displayed. It is enough just to fill in the Buy or Sell price field as that is the final price applied for the product.
Each product price also has fields for commissions in the case of distributors and tour guides. The commission and all other price fields are calculated automatically when the desired profit percentage is filled in so you can calculate a price by the expected profit.
A Buy price can be connected to a supplier, and later on this connection is extended to any invoices created for the supplier. And if the prices fluctuate on the supplier's side, the price in Victoury is also updated via an API connector if the price is set as 'host-to-host'.
Importing Prices
In addition to adding a price manually, they can be imported through the following methods:
With a Custom API Connector which preloads rates from hotels, cruises and other kinds of suppliers,
From a Standard Excel sheet that has the prices,
Or by obtaining rates in real-time from an API Connector.
Automatic Fare Calculation
If your product prices are filled in, the final deal price is calculated automatically based on what options are selected by the customer. There are two main options to set prices in Victoury, but you are free to create your own pricing method.
Setting a total price for the overall tour.
Setting prices for each arrangement (accommodation, event, tour guide, insurance fee etc.) and getting the total price once a trip is booked depending on what the customer selected.
If your tour includes alternative products, the tour price changes depending on the selected products. During the online booking process, your customer is able to see these options and their price. When a customer books the trip on your site, a deal is created and classified as an Offer. After you talk with the customer and modify the trip to match their needs, you can manually save this as a Booking, a moment in which you cannot make any more changes to the trip. However, you can make additional deals in case your customer wants more arrangements. This is usually the case for insurances as they are based on what each person wants.
The Calculation Sheet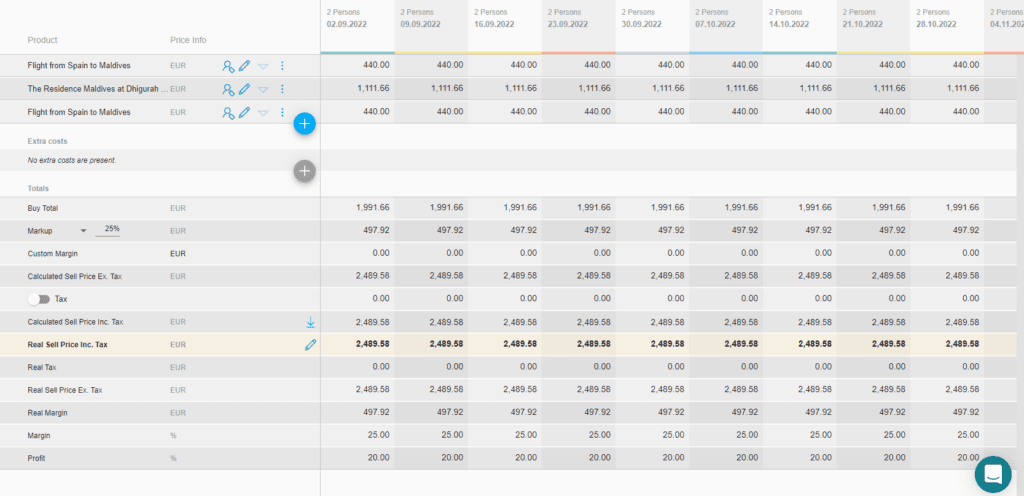 When your customer wants multiple offers to choose from, the calculation sheets can help you provide different rates and avoid the hassle of calculating them yourself. The calculation sheet is applied on a trip and it creates a table of trip prices depending on either a time range or different arrangements. You always have an overview of the margins and profits in the sheet and you can directly make changes to accommodate the customer. The prices are updated in real-time once you make a change to the trip.
Price Rules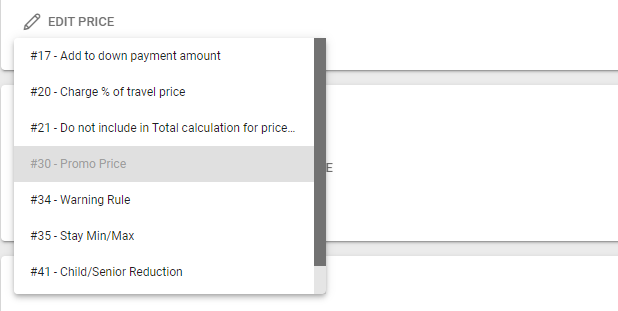 There are several types of Price Rules in case you offer special discounts or reductions, and the most commonly used are:
Promo price – if there is a holiday or occasion to offer a promotional price instead. This rule needs a start and end date.
Warning Rule – if there is any information that the customer must know about the price, the warning rule allows you to display a message and notify the customer.
Stay Min/Max – in case there is a minimum or maximum amount of days the customer can book the trip for.
Child/Senior Reduction – the minimum and maximum ages can be set for children and seniors who are eligible for a discount.
Stay-Pay – this is used for offers such as "Stay for 3 nights and pay for 2".
Price Types
Price Types are used to further classify prices. This can be done depending on the products your business includes in the packages. Usually price types are used in the case of hotels, cruises and trains, but they can be set up for other types of products that have varying prices. As an example, in the case of hotel rooms, price types are used to define the types of rooms available such as "double luxury room" or "single standard room". The price types can be freely defined in your account settings.
Overview
Setting prices in Victoury is a process personal to everyone. It can be as simple as setting a Buy price only, or as complex as you need it to be with the use of allotments, price categories, discounts and special rules. The individual product prices are automatically calculated once they are placed in a trip so you don't have to worry about adding up all the prices. And when you need to send offers to your customers, the calculation sheet displays fares for multiple time periods and arrangements.
Victoury is all about automating your workflow in one platform with the help of integrations and automatic processes. A price can be either created manually or imported through an API connector or an Excel sheet. It is enough to add your products and prices to create a beautiful itinerary in the trip designer.
If you want a personalised demo to see whether Victoury can fulfil your business needs, fill in our demo request form here.