A Travel Software Made for Managing and Creating Group Tours Efficiently
Group Tour Experiences
A Group Tour is an experience shared among a group of people, be it that they already know each other, are related in some way, or just met on the tour itself. Group Tours have been a big part of the travel industry and are recovering in popularity after the COVID-19 pandemic. As the travel sector is moving towards unique and personalized experiences, Group Tours are also shifting with the emergence of themed tours and customized arrangements. The downside of this trend comes with managing every person's itinerary. This task can get time-consuming, especially if multiple people are asking for different arrangements or additional activities. Depending on the way you create tours, your customers might have preferences that require you to make changes or establish other deals. Creating personalized and custom tours is a way of assuring that your customers have the best experience possible. That is why software specifically designed for managing group tours can be helpful to your travel business both in regard to time and logistics. Having a centralized system to manage bookings and trips can make the difference in how much time you spend on tour creation and management.
Travel Software Created With Group Tours in Mind
Victoury is a travel management software that has group tour features developed in collaboration with travel professionals and tour operators. With constant updates based on client feedback, you can be assured that Victoury is a fitting tool for your travel business. This article will showcase the features that might interest you when you create group tours in Victoury.
Group Tour Category and Search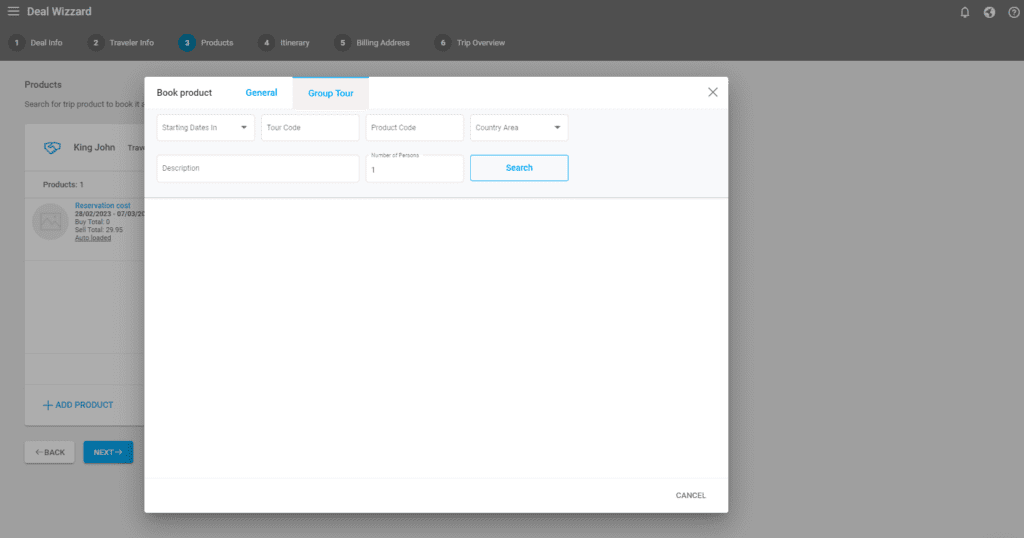 Victoury has a separate product category and tab for group tours. This type of product has detailed settings when it comes to allotments, availabilities and prices. You can add allotments for various time periods which repeat automatically, and for each allotment, there are traveler settings such as maximum and minimum ages, free places, and whether there is a tour guide responsible for the tour. In addition, there is an Availability tab where you can look up all group tours you offer within a time period and get an overview of the available places for them.
When you create a deal, you can search either for a 'General' or a 'Group Tour' product, making it easier to get an overview of only the group tours you offer.
Traveler Relationships and Assignments for Products in Deals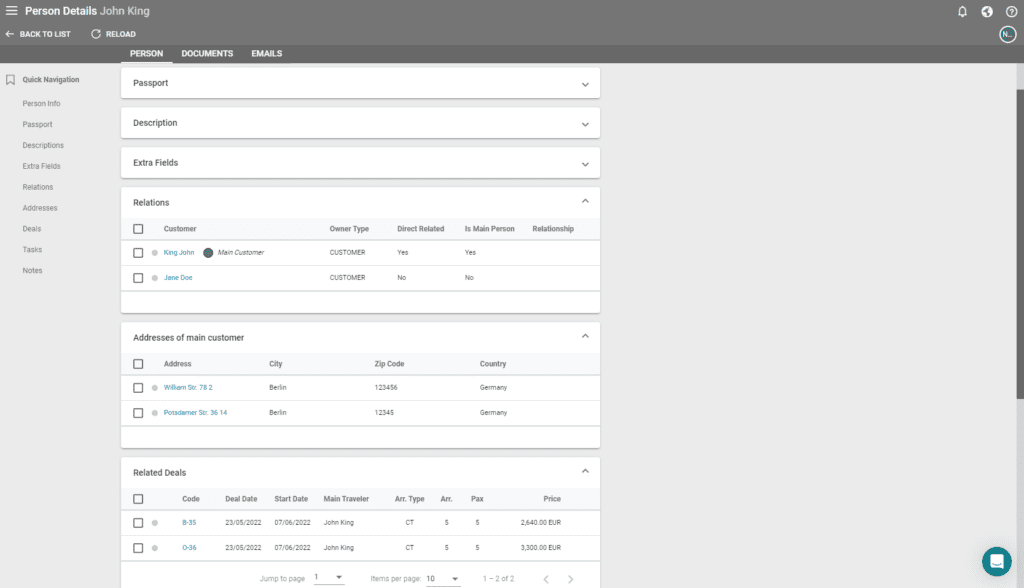 Persons are saved in the system together with relationships between their fellow travelers, so if you have a regular group of people that books your tours, you save time in assigning them to the deal. On the deal creation menu, you can add related travelers to the deal when adding the main person for the deal. You can also assign travelers when adding a new arrangement to the deal. In the case that someone wants a different activity, they can be assigned to that separately. If you're booking a product with room allotments, you also have the possibility of assigning the rooms to the travelers.
Allotments with Detailed Settings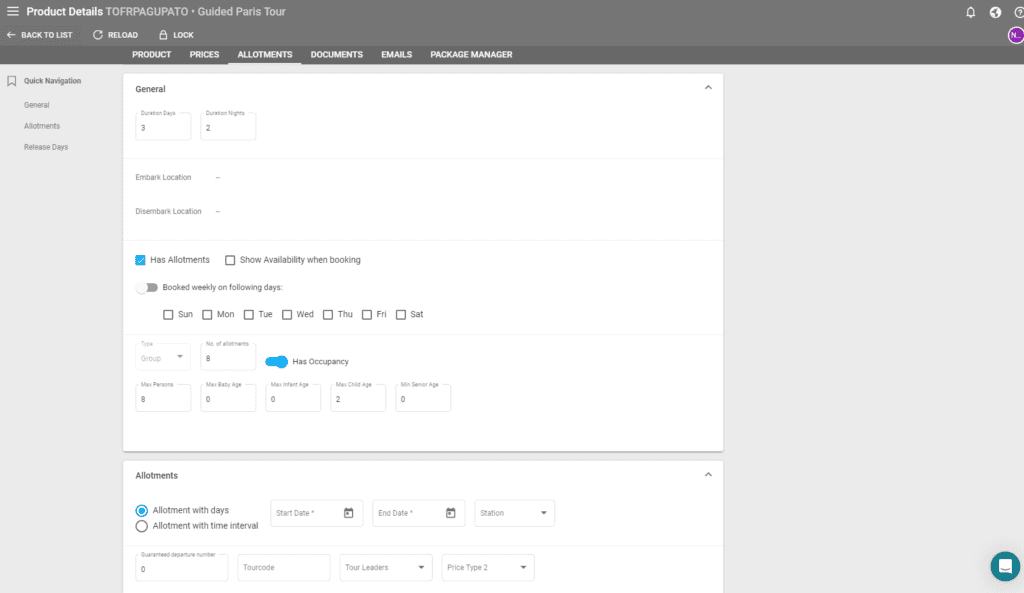 Products in Victoury have an allotment tab where you can create availabilities. First of all, allotments can be created for rooms, cabins, persons, seats, objects or groups. For each type of allotment, maximum and minimum ages and numbers of occupants can be set. Allotments can be created weekly, monthly, or between a customly defined time period, allowing you to fully customize the tour dates that you offer.
Automatic Travel Documents in Multiple Languages (Travel Plan, Voucher, Invoice, etc.)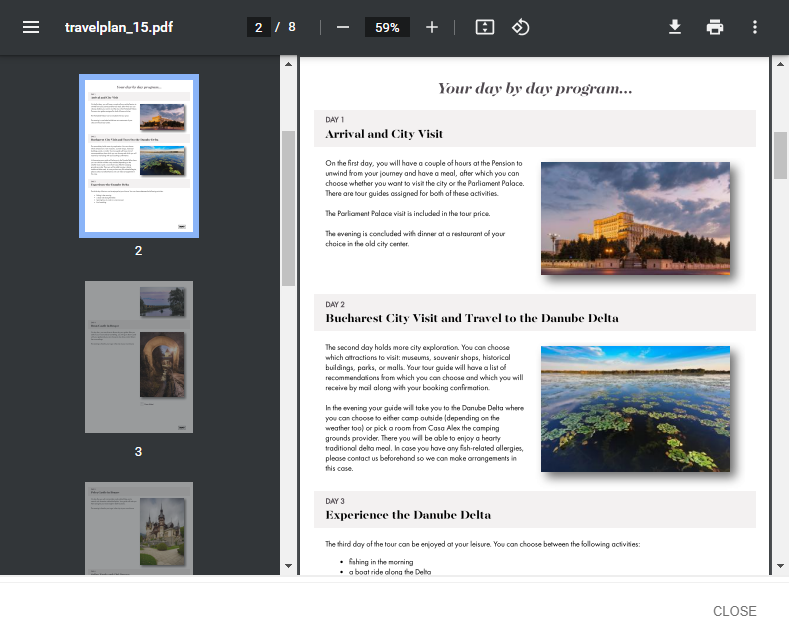 Perhaps one of the most time consuming part of creating tours is putting together a travel plan with all the details of the customer's itinerary. If each person of the group has different arrangements, this can get even more time consuming since each travel plan would need to be personalized as well.
This can all be avoided with Victoury's automated travel documents. After choosing a design together with our team, documents such as travel plans, vouchers, supplier and customer invoices and many others can be generated with one click. Once you added images and descriptions for your product, you never have to add them again and the media is used in generating the documents. And if you need the travel plan in different languages, it becomes only a matter of changing the language selected for the tour and the plan will be generated using the translated text from the products.
Calculation Sheets for Fares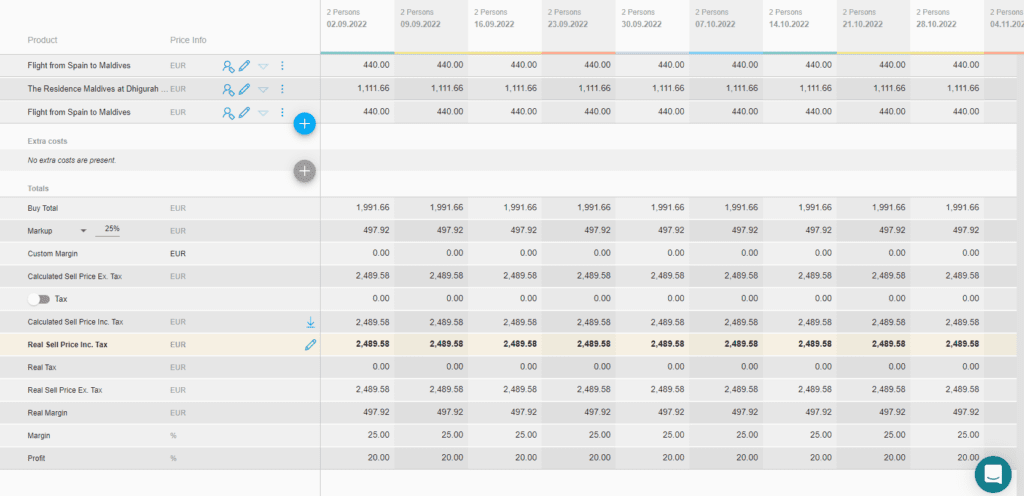 The Calculation Sheets allow you to compare prices based on the time periods you choose. Additional products can be added to the sheet at any time and the markup percentage can be changed at any time. The profit, margin, and different taxes are calculated automatically and are visible in the sheet. The tax can be included or not included in the calculation.
Assign Tour Guides to Tours
Group tours have a section to add a tour guide to them either when the availability is created or later on by editing it. To add a tour guide, all you have to do is create a new person in the Persons Tab and assign the Tour Guide attribute to them. The persons set as tour guides will appear in the availability creation section and can be filtered. The product price can include a commission percentage for the tour guide.
Try Victoury For Free
If you'd like to see how Victoury can match your business needs, fill in the contact form here and we'll contact you to set a meeting with you.
A representative will have a chat with you to see exactly how you can benefit from using Victoury and guide you through your Trial Account.
If you'd like to read more about Victoury, check out How Victoury helped Abendsonne Afrika save time in their business.