Have you ever felt overwhelmed with all the different platforms and software you use? You'll be happy to learn that you can seamlessly manage your business in Victoury.
Planning Business Resources
Enterprise Resource Planning (ERP) systems are used to help businesses find strategic ways in allocating and using their resources. An efficient and improved workflow saves time, funds, and resources long-term. An ERP system is helpful for any kind of business that relies on databases or spreadsheets which require regular updates, processes like accounting which are time-consuming when done manually, and systems which are overly-complex or inefficient.
According to Saviom, Resource Planning is a process of identifying, forecasting, and allocating various types of business resources to the projects at the right time and cost. This process requires a clear understanding of available and needed resources. However, if data is stored and processed using multiple platforms and software, it becomes more difficult to keep a clear overview of a business' resources. When it comes to a travel agency or tour operator, managing deals, customers, suppliers, and travel packages can prove to be tedious. Communication needs to be maintained with the suppliers, the customers, the employees, and any tour guides or external persons that are involved in the travel package. Moreover, products need to be up to date and displayed on the web. For any kind of travel business, a central management system is desirable to save valuable time and see your business at a glance.
SelectHub offers a checklist of questions to consider when choosing a suitable ERP system:
What will my business look like in the future?
What will my vendor look like in the future?
Who will use the system most often?
Which requirements are more important to my business?
How big is my budget?
This article explores the ways in which Victoury can bring together parts of your travel business on one platform, as well as features which allow you to see the ongoing operations and reports such as deals, leads, and statistics. See how Victoury compares with the ERP checklist above.
Inventory Management – Products, Trips, and Assets
Products are central to any business, whether they are a physical product or a service. When offering multiple products and packages of products, it is crucial to be in contact with your suppliers and to be up to date with all details of the products.
Products in Victoury are linked to their suppliers so you can easily send an email for any bookings. Each product also has the option to send an automatic booking email to its supplier once a booking is confirmed. This email's contents can be edited in the Text Library where all the email templates are kept.
Multiple products can be organised into a package, either in the package manager tab of a product or in the Trip Designer, a visual tool for creating trips. Once you create a trip, you will be able to add already-existing products to it, or create new ones in the trip designer itself, saving you the trouble of going back to add more products. Every part of a trip has its own attributes: a general short description, multimedia images, product text available to be completed in multiple languages, and starting and ending dates. In addition, there are more fields and tabs in the product list where the detailed information is stored. Some of this information includes seasonal and regular prices, characteristics, suppliers, allotments if needed, documents, and emails related to the product.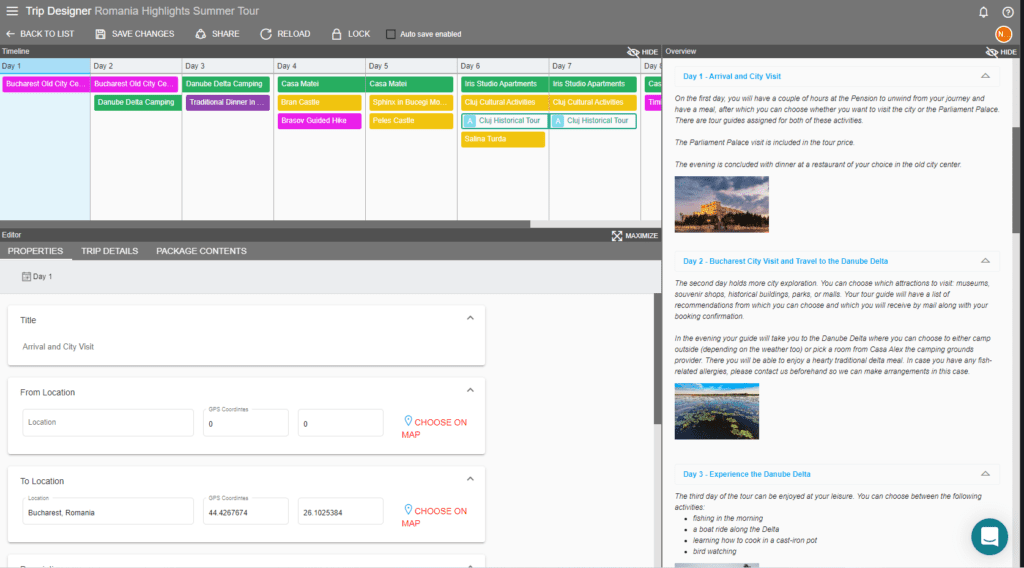 Assets linked to Products
Define your assets in Victoury and link them to the relevant products. Assets can be a hotel, train, or vessel and are considered as parts of a product. If you offer a cruise as a product, the vessel is considered an asset in Victoury. Assets can be linked to any amount of products if necessary, with its information displayed on the website, in the product detailed view, and in PDF documents which contain the product (such as Travel Plans or Offers).
Every asset type has its own unit type, and the prices are set depending on the different unit offers. For instance, in the case of a hotel, the units can be a single room, a double room, and a penthouse deluxe apartment, with each unit having its own price, images, and description.
Custom Fields and Attributes
In order to completely define your resources, you can define Custom Fields (in Settings -> System). A custom field can be added for a Product, Product Text, Customer, Person, or Deal. The fields are either simple or formattable text, a drop-down list, or a radio button list. This proves to be extremely useful if you have specific resources that aren't defined by default, or if you need to include a new attribute to them.
Depending on the kind of resources your business handles, you can edit the drop-down lists available in the software. These are called Choice Lists in Victoury and can be accessed in the Settings. A recommendation from our team is to go through the default lists and remove the items you do not use in your business so your selection is reduced in size. Additionally, you can edit the lists to include the attributes needed, so for instance, if you offer a camping tour, you can create the accommodation product to have the attribute of 'camping'.
Accounting and Financial Management
Payments can be tracked in the Customer/Supplier Payments tab, always offering an overview of current payments. Once a booking is created, an entry for the customer payment will be visible in Customer Payments, and one for the supplier in Supplier Payments. An invoice can be generated later on, with its design defined by you and containing your brand logo.
The customer payment has entries for the down payment and rest payment along with due dates for both. The down payment is based on the invoice settings selected (in Settings -> Financial). The supplier payment has a total payment and its due date. Invoices can be selected and exported to your accounting system.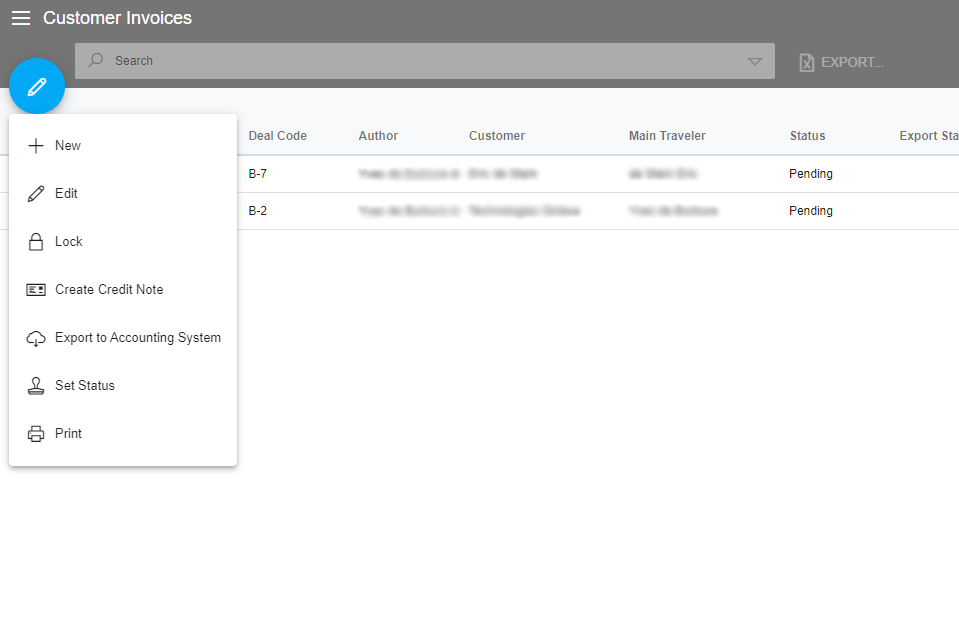 Customer Relationship Management
Victoury has customer profiles in which details about the customers are stored. A customer profile contains any past and current deals which involve that customer, any payments received from the customer, other persons related to them (either as family or fellow travellers), and their vital personal information such as addresses, contacts, email, phone number and so on. The customer profile also has an email tab where all emails sent to them can be seen at a glance.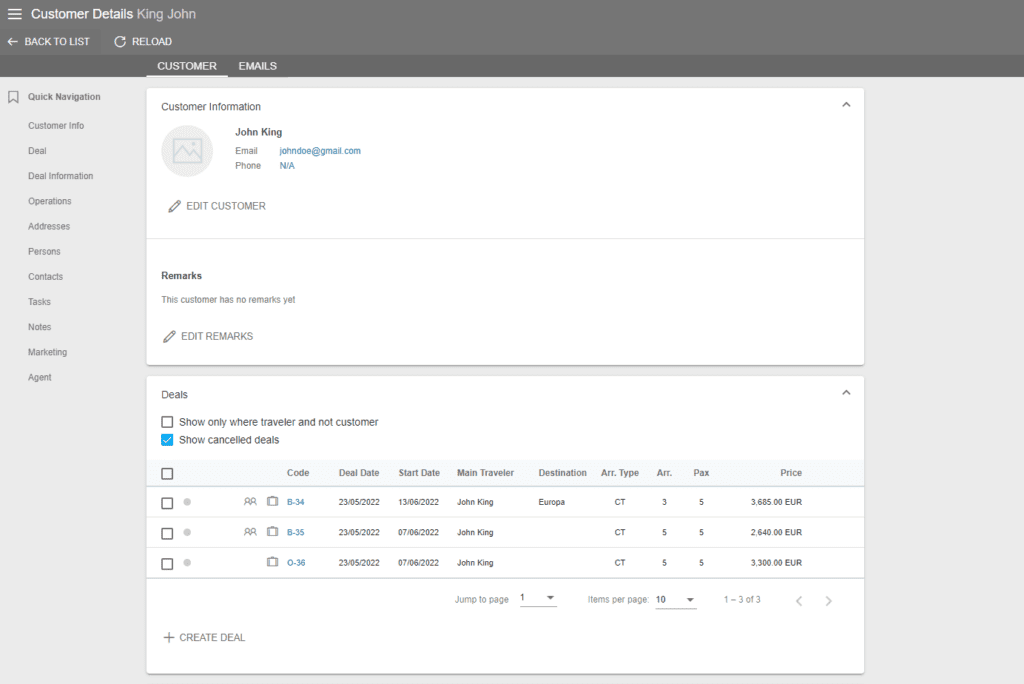 Reports and Statistics
The Insights tab offers a monthly report with detailed information for each deal in the selected period, and custom statistics. The statistics can be selected depending on the number of deals, pax, turnover invoices and deals, and then filtered by brands, destinations, author, sales agent, arrangement type, supplier, and product. The time period selected for statistics can either be by travel or booking dates.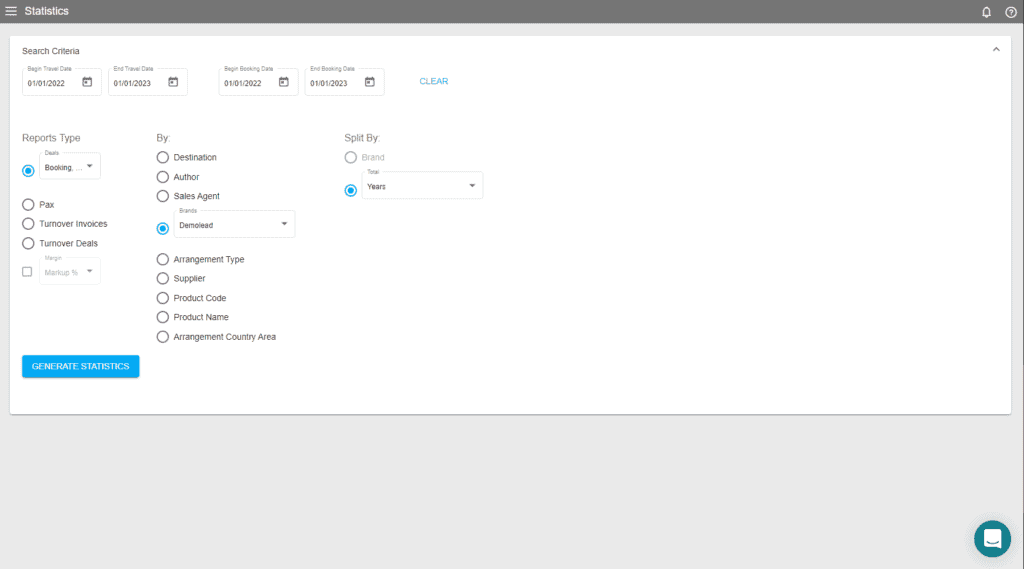 How can Victoury help you efficiently manage your enterprise resources?
Victoury is a centralised platform for tour operators, travel agencies, and travel professionals, eliminating the need to use multiple platforms through API connections and an extensive feature list. All features are carefully crafted to make your workflow more efficient.
The software is customizable to your business needs so you can add custom fields, modify your lists and pipeline, and write down your own email templates. Once the initial set up of your workspace is complete, maintaining your business' resources becomes faster and saves you valuable time.
Book a demo meeting today by filling out our demo form.
We will get back to you and arrange a meeting slot in which we discuss the needs of your company and how we can help you reach the most efficient workflow.

What is Victoury?
Victoury is a highly-customizable tour operator software which manages all aspects of your travel business.
Victoury is adaptable to any travel business. The software is browser-based, so no downloads are required and it can be accessed anywhere, even from home. Backed by the Gloobus Bus Service, you can connect to any kind of supplier or accounting system. And if you don't need all of the features, the software interface can be edited to only include what you require.
Victoury was started in 2018 after years of collaborating with travel professionals. Our team noticed the lack of a customizable travel tool that also manages all aspects of a travel business. Victoury is constantly optimized by our development team to reflect your needs as a travel professional.
Read more about Victoury on our website.